Girly kitchens for little girls
Who wants to play like a chef in a girly kitchen?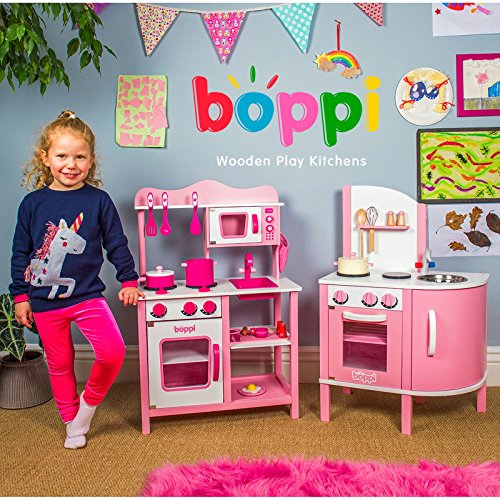 Table of Contents
Table of Contents
Every little girl dreams of having a girly kitchen play set in her room to cook good little imaginary dishes.
An imitation game par excellence, the kitchen play set for girls is a toy that develops the imagination. It can be more than a toy, becoming a real play space, both a toy and a real piece of furniture.
You can spend hours playing chef or cooking delicious meals like mum or dad.
Pink Play Wooden Kitchen with electronic burner, lighting and sound effects in a romantic look: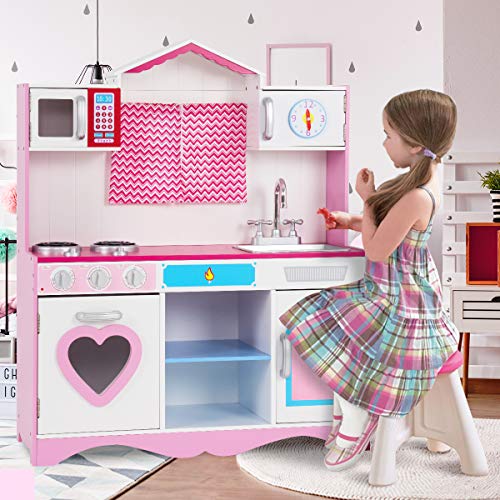 The wooden kitchen for kids is a privileged space where your daughter will be able to prepare delicious dishes like a real cordon bleu: magic pies, roast chicken on Sundays, pizza on Friday nights, nothing will escape her...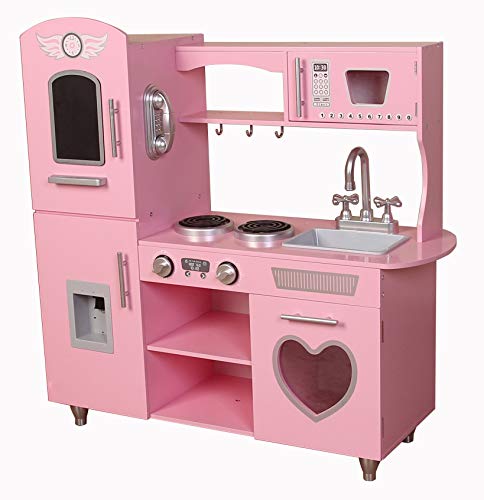 The girl's kitchen should fit in perfectly with the girly decor of your child's room.
Perfect for long hours of cooking and playing: washing fruit and vegetables, putting ingredients away in the cupboards, putting on her apron, making pancakes or cakes, in short, cooking like a real little chef or like her parents...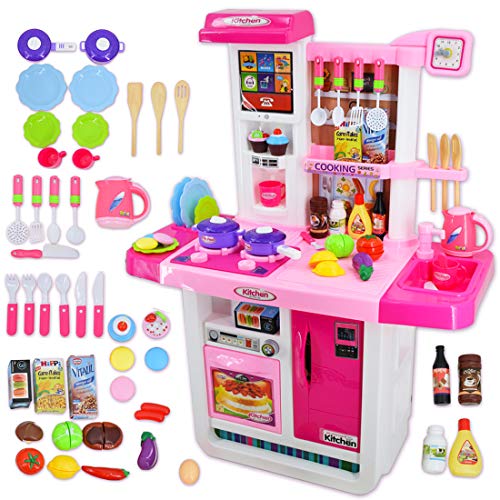 Which girly kitchen play set to choose for a girl?
Which material for a girly kitchen playset?
Kid-sized kitchens can be made of different materials: more or less durable plastic, wood, solid or plywood...
A kid kitchen toy made of solid wood will be stronger than a cooker table made of MDF (glued and pressed wood fibreboard). The quality of the wood should be reflected in the price.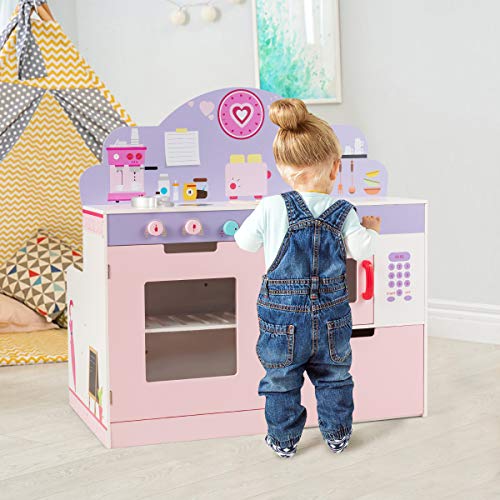 Red Play kitchen by Kidkraft made of MDF with refrigerator, oven, microwave in a vintage look: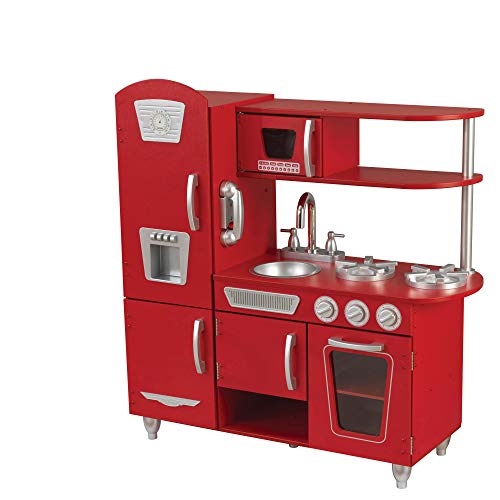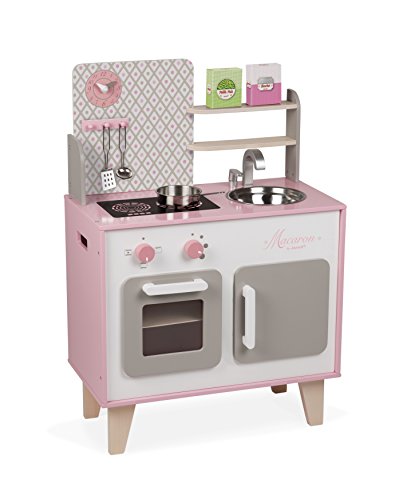 Plastic kid's kitchen plays, which are generally cheaper, are more like toys than real toy furniture like wooden kid-sized kitchen. Note also that there are different qualities of plastic, so the kitchen playset will be more or less solid and stable.
Ideal for travelling or playing anywhere: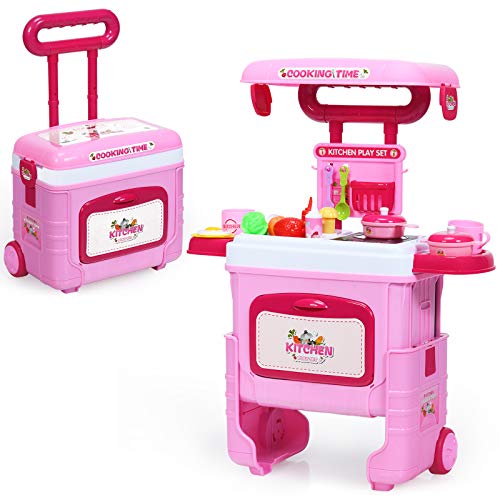 However, depending on the design, the particular play options, the quality of manufacture... the price may be close to that of a wooden kitchen.
The French-made Snoby kitchen studio is a real kitchen station. With its 360 degree design you can play alone or with your friends. This kitchen for girls has many accessories and play options (hotplate with sound effects, large oven, fridge, coffee machine (with capsules), soda machine, sink, dining area, and 27 accessories included (cutlery, plates, glasses, cups, frying pan...). Hours of play and cooking from 3 years old: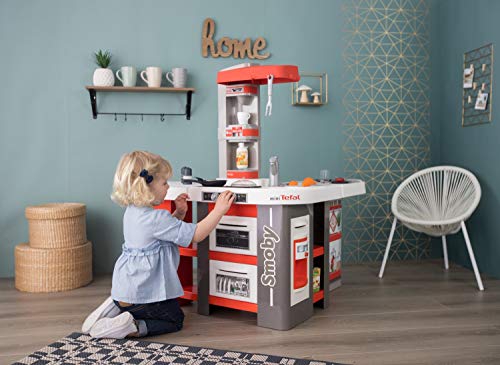 The French kitchen studio by Smoby is made in France. It is a real kitchen station, with an extra-large angle shape that offers a lot of space for cooking and baking. With its XXL design, you can play alone or with your friends. This kitchen for girls has many accessories and play options (hotplate with Magic Bubble function, oven, fridge, coffee machine (with capsules), soda machine, sink, dining area, and 39 accessories included (cutlery, plates, glasses, cups, pan...). Hours of play and cooking from 3 years old.
This kitchen is equipped with the Magic Bubble function which allows to boil water as if by magic: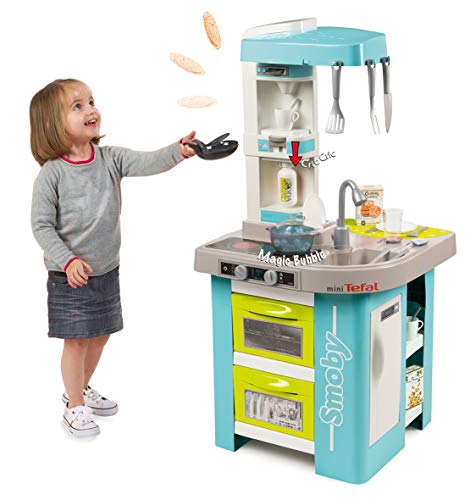 - What style for a girly girl's cooker?
The girly kitchen can be glamorous, romantic, retro or vintage, modern, contemporary, childish or fanciful... But above all, it must please your little girl and be in keeping with the decor of her room, particularly in terms of colour.
Romantic design :
With the openwork heart on the oven door and the window with pink curtains for this Leomark white and pink wooden dressing table: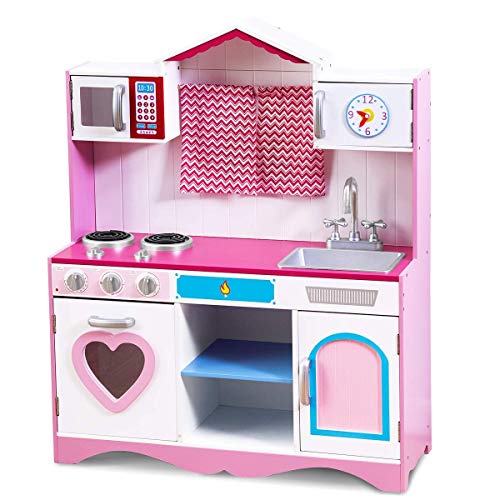 Girly look :
This kitchen is definitely girly with its candy pink and its chalkboard door where you can write recipes or shopping list...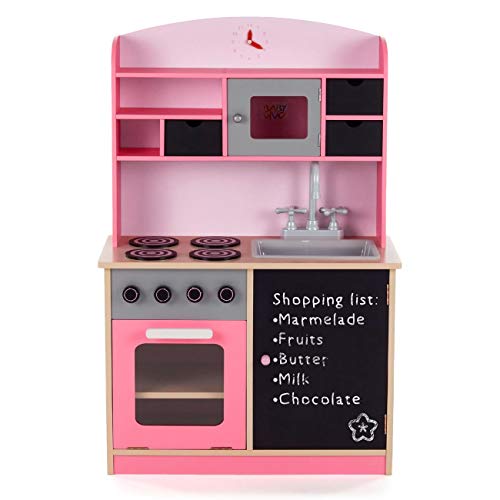 Modern look:
Original and modern look with the American fridge equipped with a water and ice dispenser and a telephone.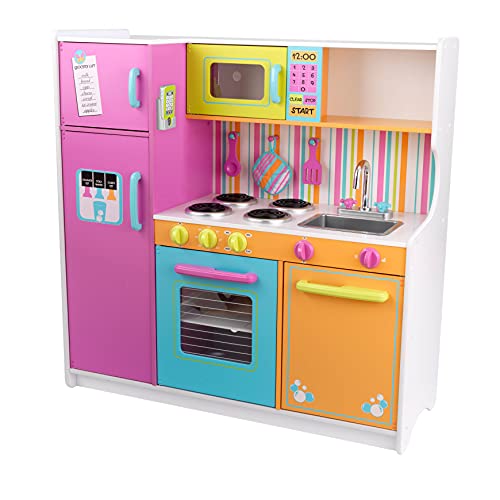 Vintage and retro look: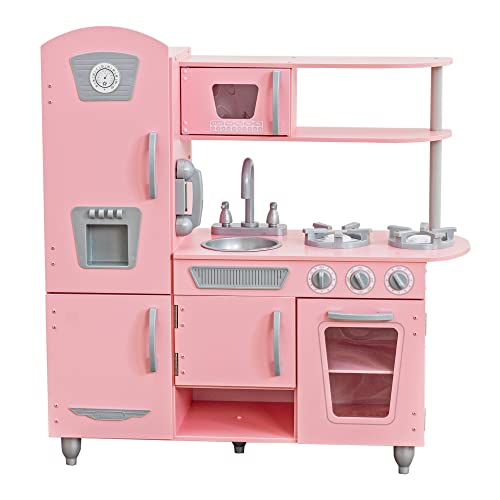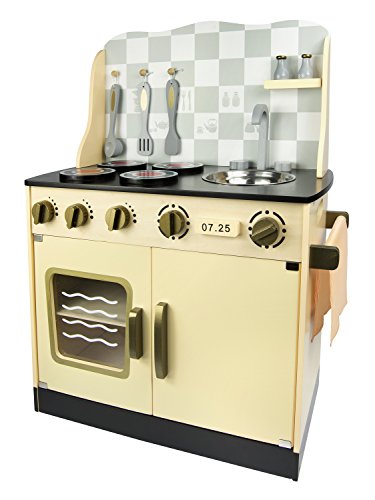 It can also evoke a Disney or cartoon character such as Minnie, Elsa from Frozen, or Barbie...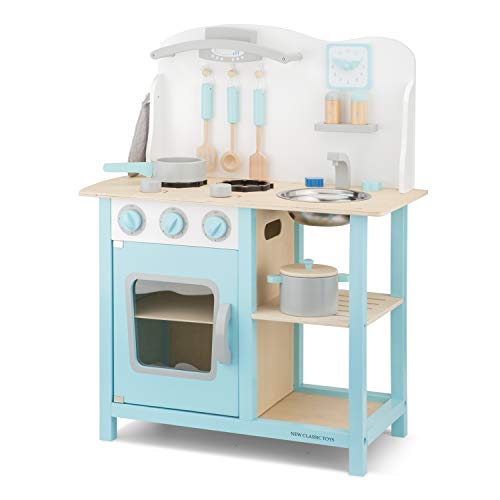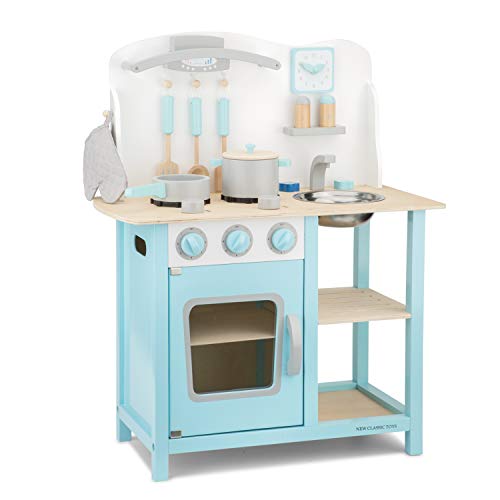 What colour for a girly kitchen play area?
The girl's kitchen playset comes in many colours: red, pink, white, pastel blue... Pale pink or flashy, cream or pastel tones, or even black for an original look.
The girl's cooker can be plain, two-coloured or patterned.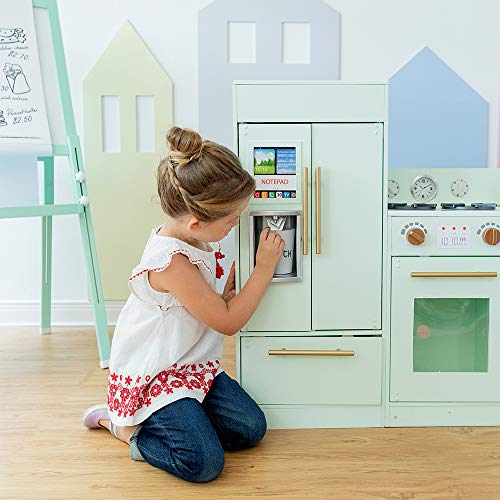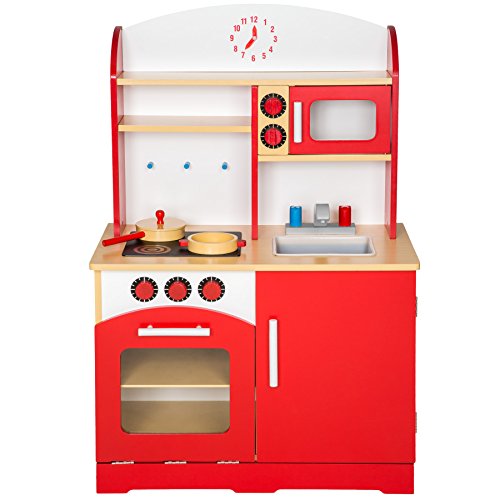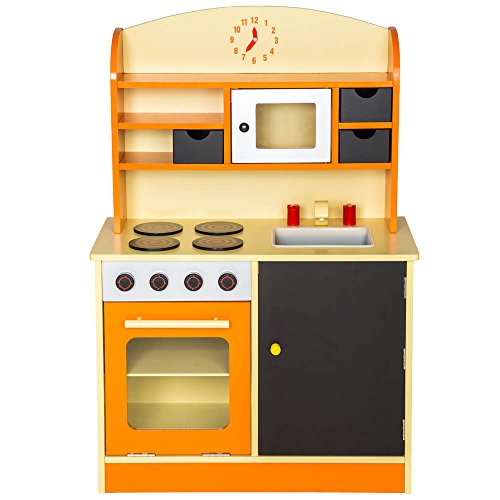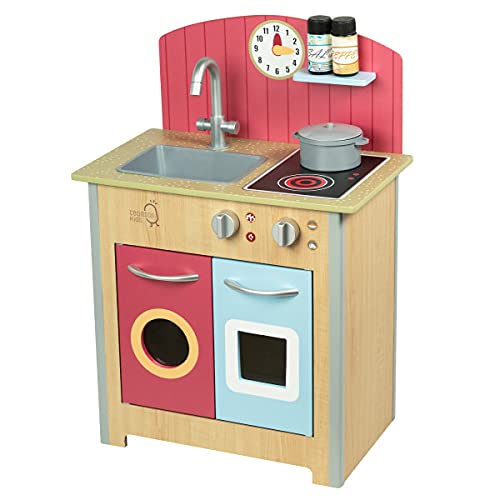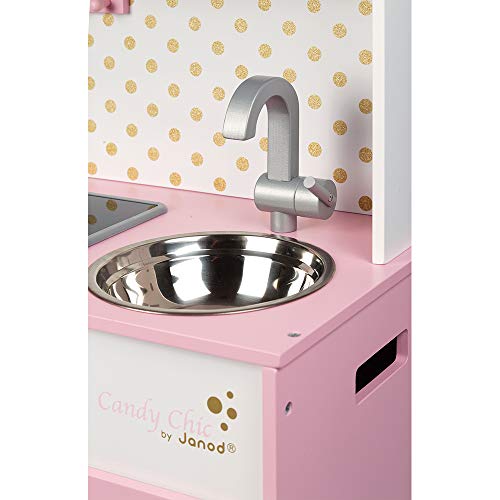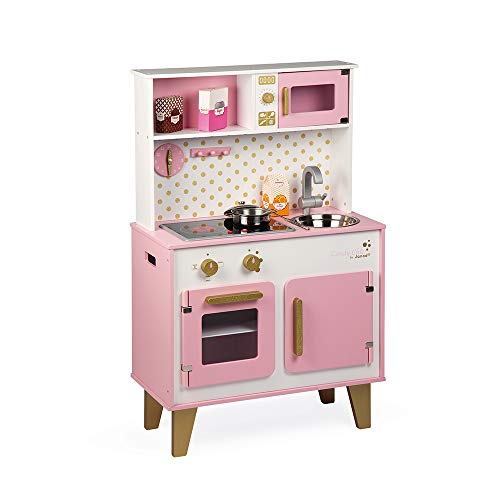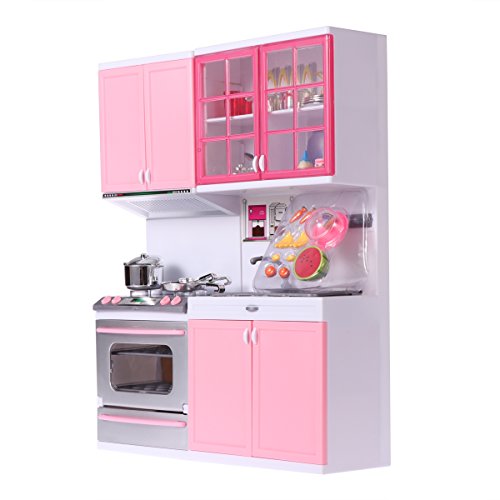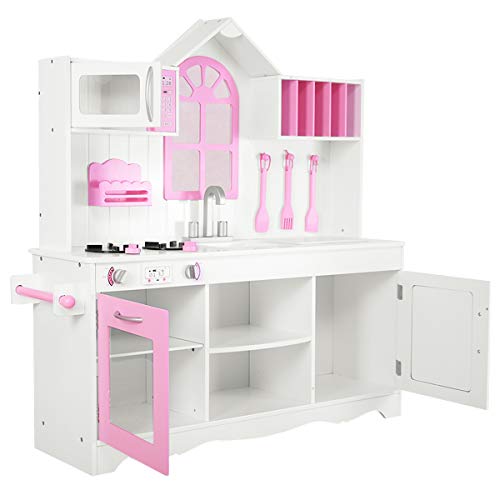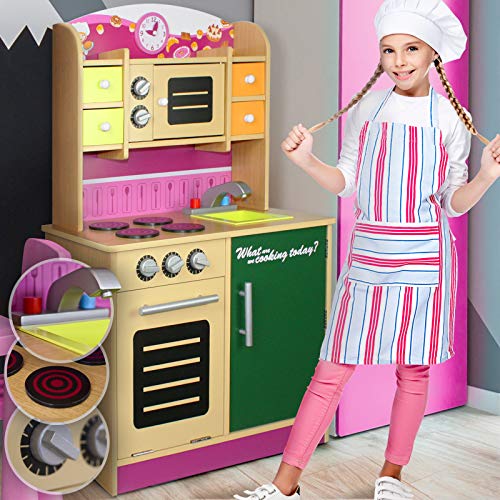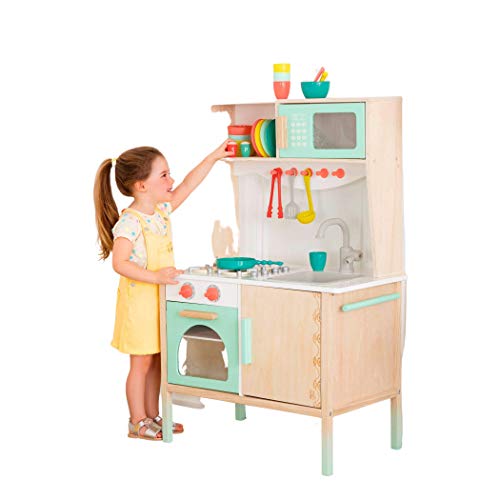 How much does a girly kitchen cost?
You will find first prices around 20 or 30 euros in plastic or for a simple tabletop.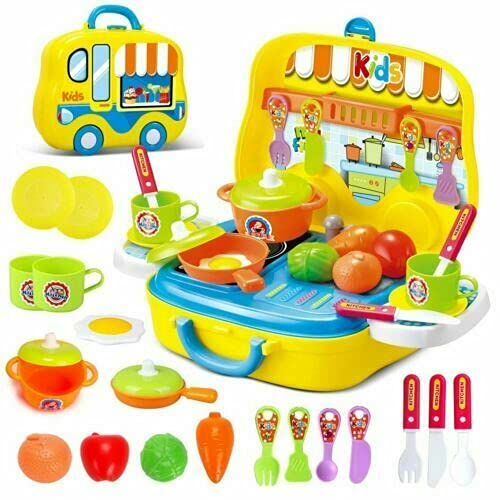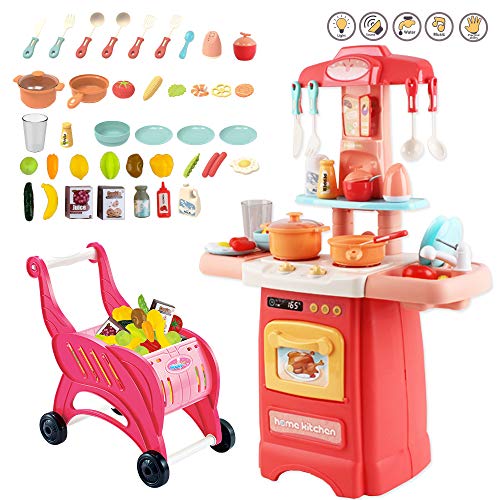 The price increases with the size and sophistication of the cooker, from a simple cooker unit to a full kitchen area with fridge or window.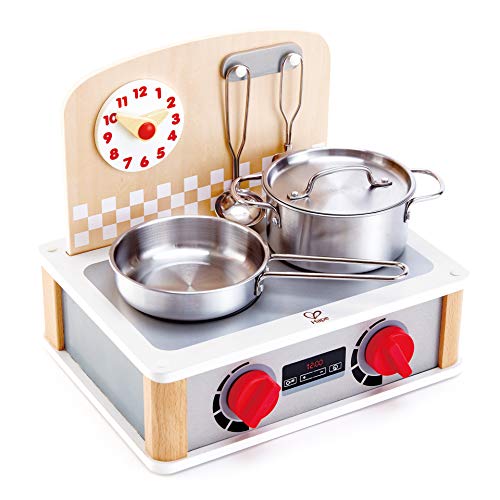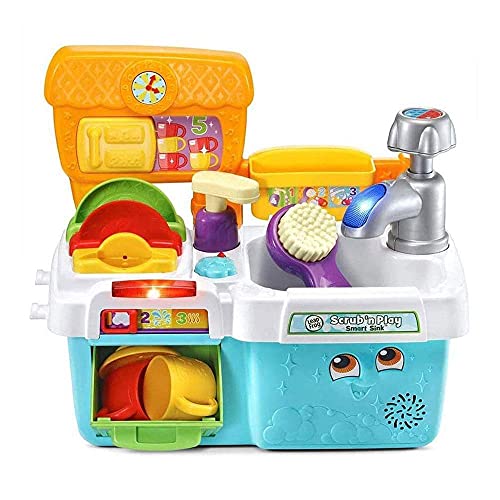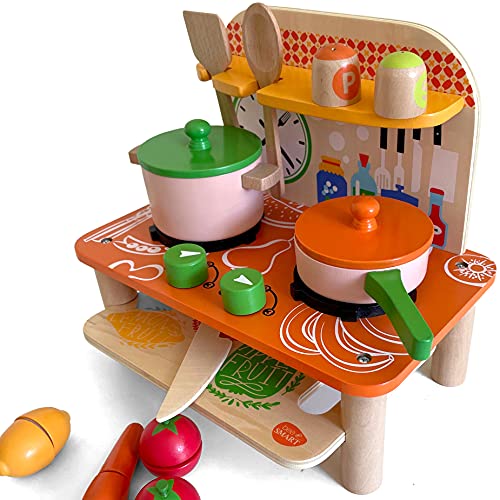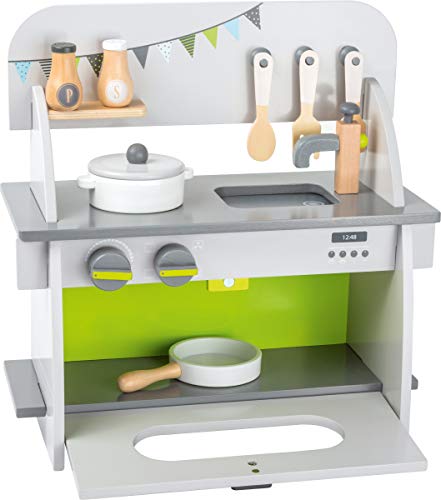 The raw material will also affect the price, solid wood play kitchens are more expensive but also more durable, strong and environmentally friendly.
The design and the presence of accessories or options also increase the price:
- kitchen with shopping slate :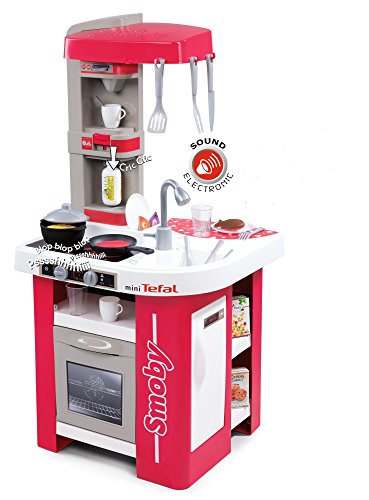 - Corner kitchen with fridge: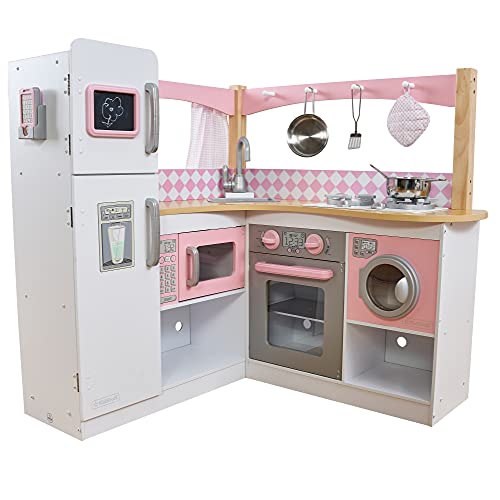 - Expandable kitchen with accessories :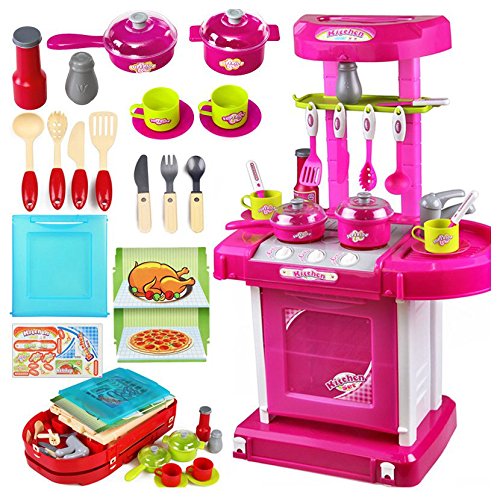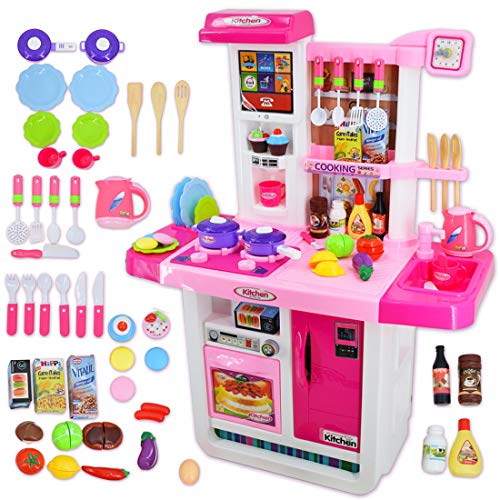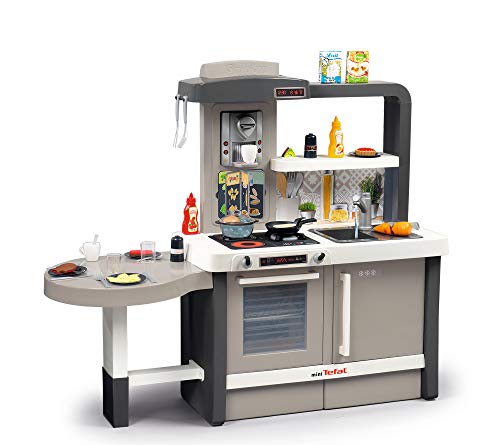 How to choose the perfect girly kitchen play ?
What are the criteria for choosing the perfect kitchen play for your child?
The surdiness
- Sturdiness: is the cooker solid and stable, is the material of good quality? How much does it weigh?
If you have the budget, we will advise a wooden kitchen for its durability and quality.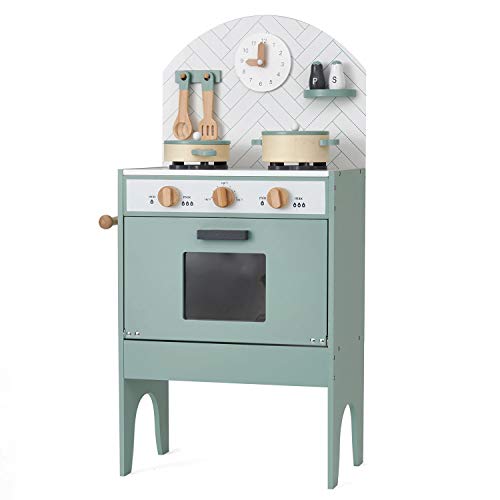 The different appliances and accessories
- the elements of the kitchen: is there a sink? cooking plates? an oven that opens? a fridge? storage cupboards? a dishwasher?...
- accessories: are kitchen accessories provided (pots, pans, cutlery, glasses, plates, pans, ramekins...), ingredients or ready-made dishes? (fruit, vegetables, bread, chicken, flour...).
The drawers and cupboards of the kitchen are very practical to store all the accessories for games and cooking, food and ingredients or utensils and cutlery... Some girl's kitchens have one large drawer, while others have several small drawers to better store pots and pans... Check that the drawers are real sliding drawers and that the oven opens.
Are the knobs on the kitchen and oven fixed or do they turn?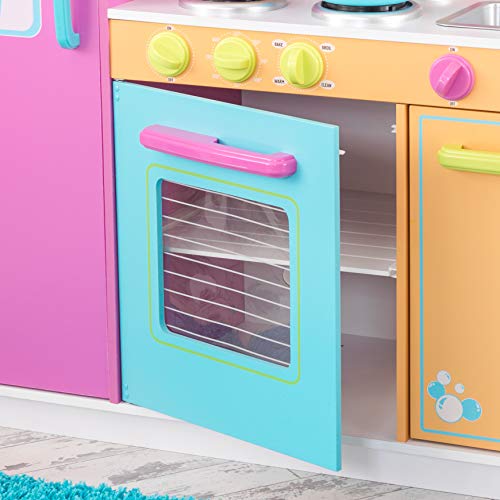 Finally, the simplest kitchens have no sink or fridge.
The look and style
- the look and colour will be in keeping with your child's taste and the decor of his/her room.
The price and material
- The price: will respect your budget, opt for a good quality-price ratio.
The material of the cooker will be in agreement with the price, as well as its size. For the small budgets you will be able to direct you towards a plastic toy cooker or then towards a transportable cooker kind of suitcase of kitchen or plates of cooking.

For the more budget conscious, you can opt for a real wooden cooker with a large capacity and a fridge, or for a quality and durable plastic cooker made in France, such as those from Smoby.
The size, the design and the room
Depending on the space and the room you have to fit the kitchen you will choose the right size.
It could be a very compact kitchen playset, foldable to save space for exemple.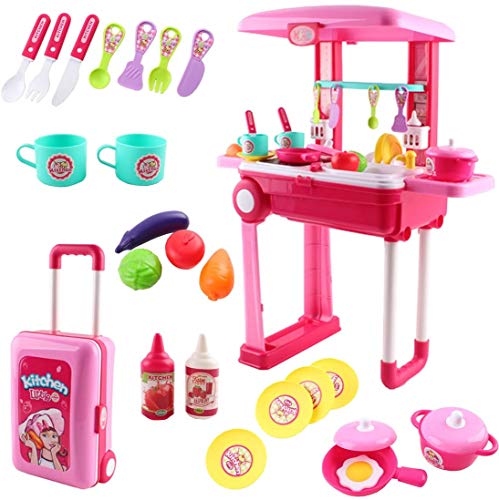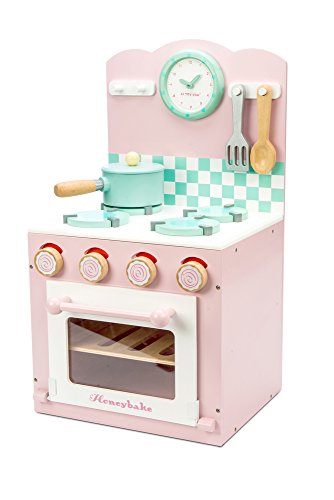 If you have a bit of more space you could go for a resonnable size, that will not need a massive space.
Finally, if you have the room you could go for a XXL kitchen play set or a large wooden kitchen playset.