Wardrobe for Barbie's clothes
How to store clothes for Barbie?
Has your little girly girl set her sights on the latest Dreamtopia or Barbie Fashionista doll? We understand! But when the collection of Barbie outfits and accessories grows, the question of storage and tidying up arises.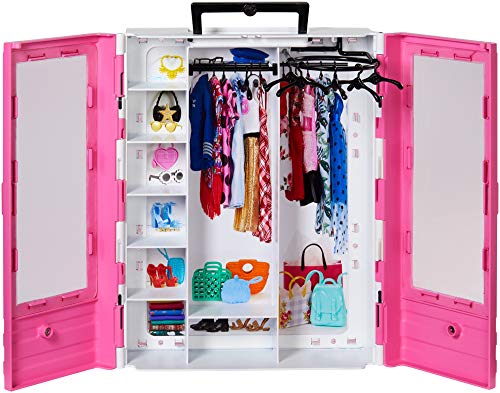 There are effective storage solutions for all budgets, playful and girly, that allow you to keep all your outfits and fashion accessories, and to play without losing the precious pieces of Barbie's wardrobe or other dolls of the same size.
1. The transportable dressing room for Barbie Fashionista:
This licensed Barbie wardrobe case is ideal for carrying up to 2 Barbies and lots of accessories. It has a mirror, many different storage spaces and 2 rods with 12 hangers included. It allows you to play everywhere with the essential accessories.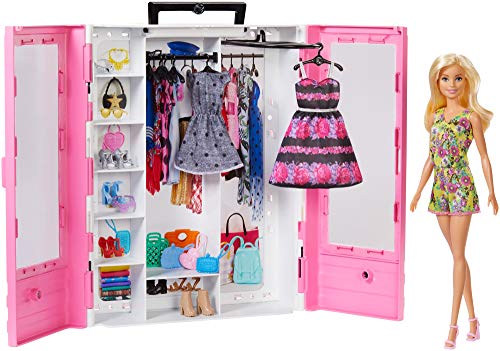 It is a toy wardrobe that allows both to store and to transport all the outfits, dresses and accessories for Barbie dolls. Each item will find its dedicated place, handbag, pumps, dresses for Barbie.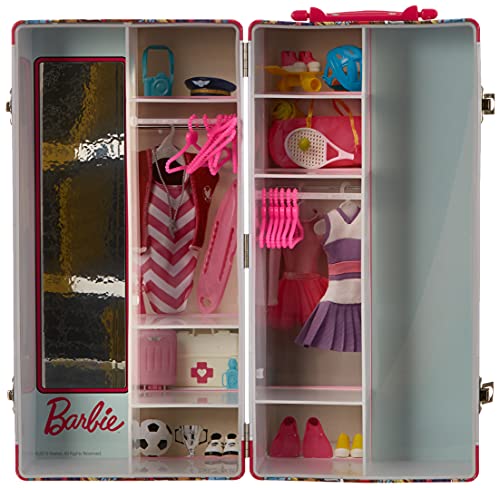 With its handle, Barbie's dressing room can be carried anywhere. It's ideal for playing with friends or going on holiday with your favourite Barbie and her array of outfits for all seasons.
This Barbie dream wardrobe can be taken anywhere with its carrying handle. Its pink design with transparent doors will seduce little girls and allows them to see its contents directly.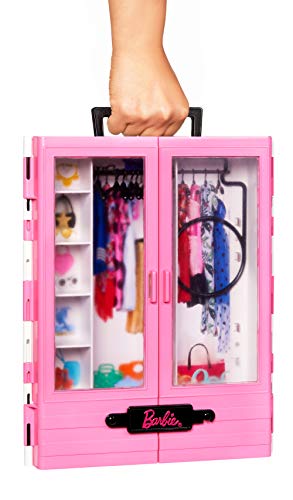 It has shelves and 2 wardrobes with 12 hangers provided.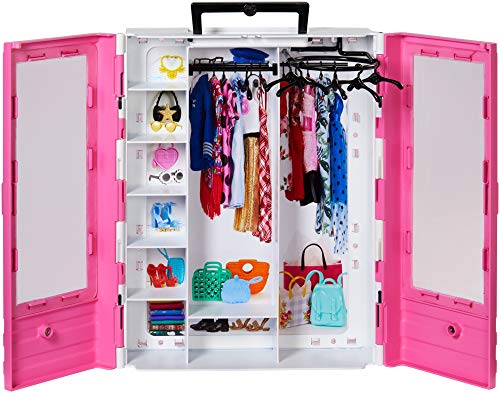 We love the glamorous fuchsia pink design and the heart-shaped handles of this Barbie-style portable wardrobe for dolls' clothes.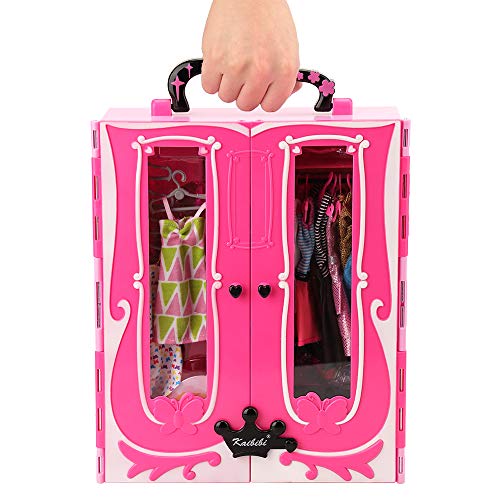 For the greatest pleasure of little girls, this dressing room is already complete with 41 fashion and trendy accessories for Barbie: dresses, bags, shoes, necklaces... Hours of play guaranteed while dressing Barbie!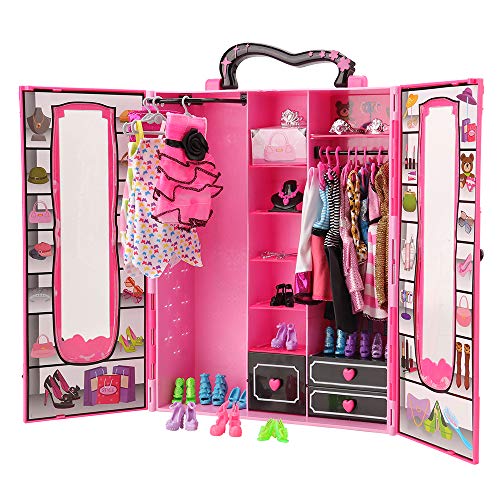 One of the bestsellers is this Zita wardrobe containing 51 accessories for Barbie dolls: clothes, dresses, hangers, shoes and accessories, bags, swimming costumes, in short, the complete panoply to have fun...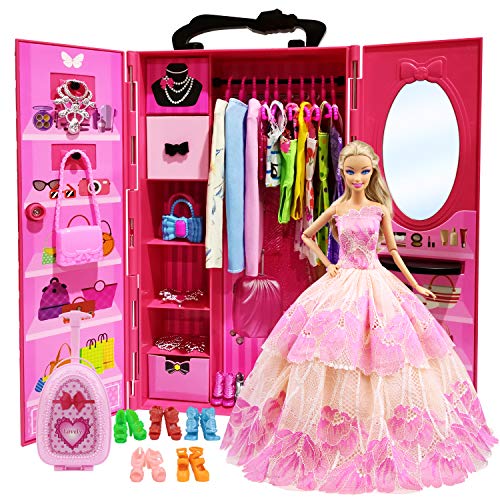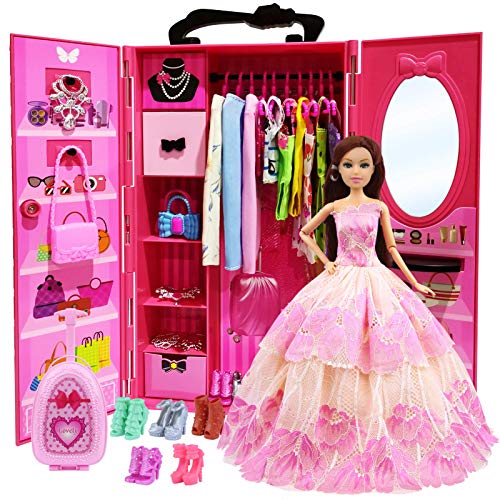 We appreciate the girly details such as the bows on the storage boxes, the mirror and the necklace hooks.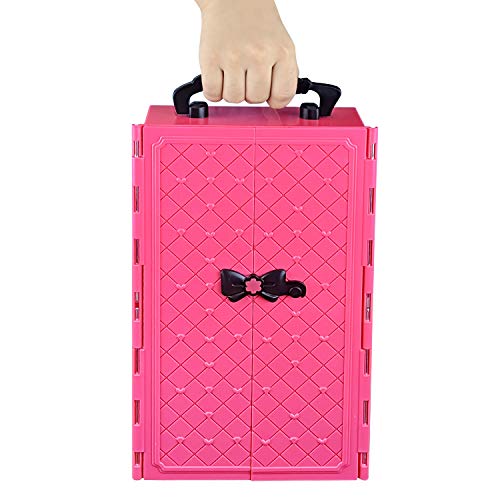 The girly suitcase dressing room contains 10 hangers, a suitcase with wheels, 10 necklaces, 10 bags, 10 pairs of shoes, 9 outfits including 2 original girly evening dresses.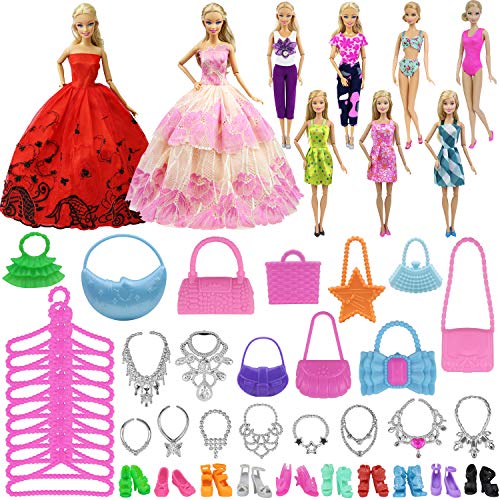 2. Barbie's large capacity wardrobe for clothes
This Deluxe Barbie dressing room includes 4 outfits and more than 25 accessories. We like the wardrobe, the yellow stool, the make-up console...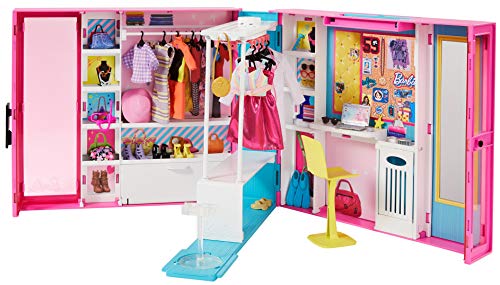 Easy to carry around, it's the perfect imagination game for little girls aged 10 and over who are fans of Barbies.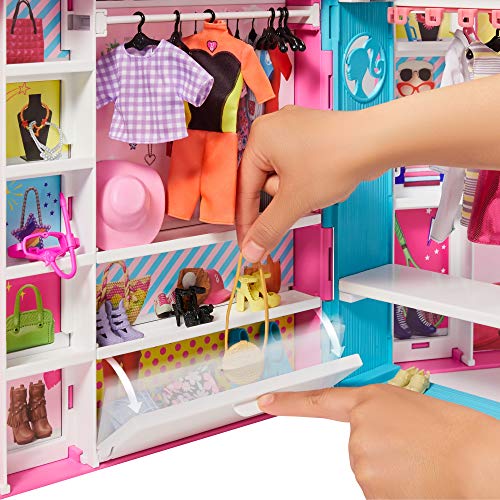 3. Barbie's low-budget wardrobe
Unlike portable wardrobes, the Barbie doll wardrobe is designed to play in a room.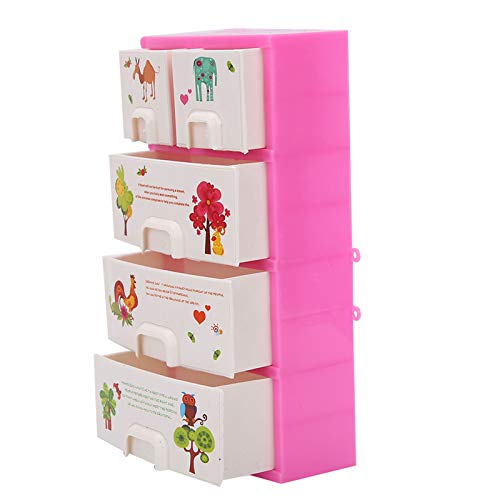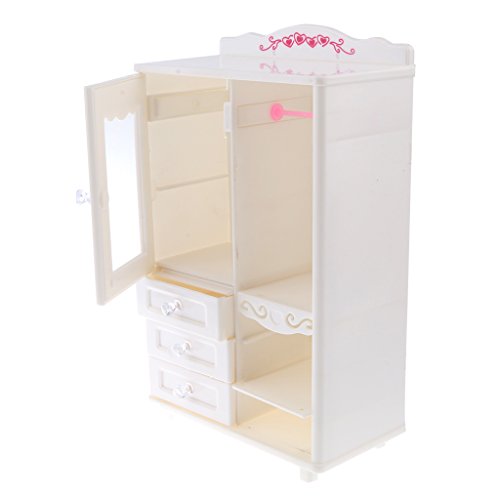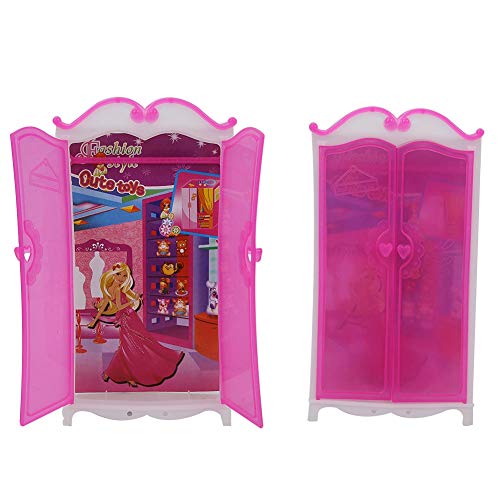 - The ultimate Rainbow wardrobe for Barbie doll style :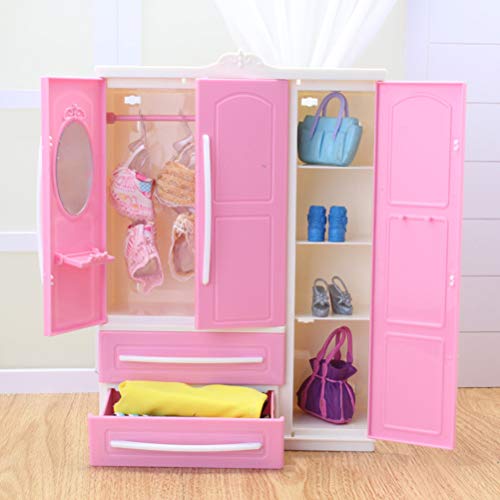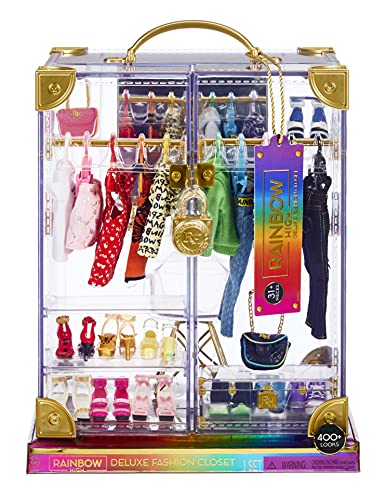 This clear, trunk-style fashion closet with gold finishes comes with over 31 fashion pieces to mix & match to create more than 400+ combinations.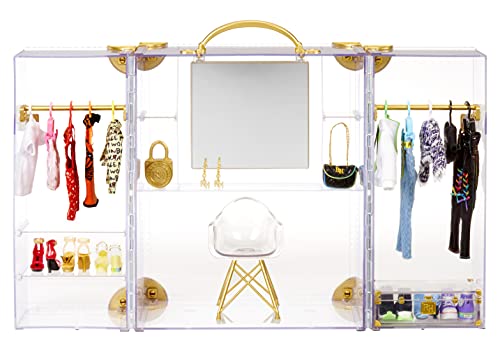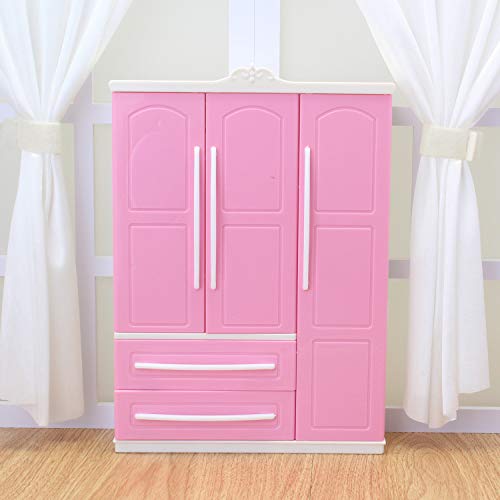 For those on a budget, an alternative to plastic is a wooden wardrobe for Barbie-style doll clothes: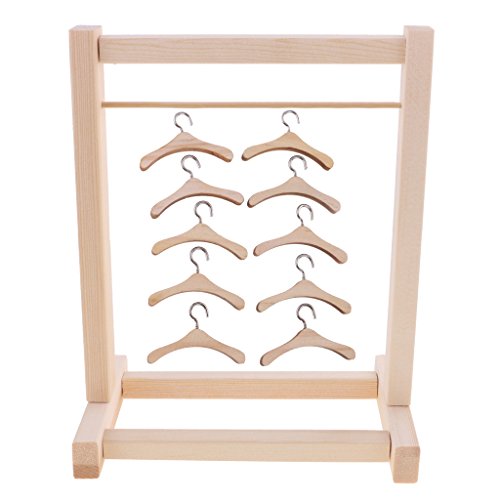 Our advice for choosing :
- Are you looking for a fixed or transportable solution to store Barbie's clothes?
For a transportable solution, opt for a dressing table with a handle.
- Should the dressing room also be able to hold the Barbie doll ? Then choose the Klein Barbie case.
- Are you looking for a large dressing room with a dressing table style play area? Then choose the Deluxe Barbie Fashionista dressing room also called the Barbie ream closet.
- Are you looking for a complete wardrobe where clothes and accessories are already provided? Then opt for a complete wardrobe like Zita's.
- Do you have a small budget? Then opt for a plastic wardrobe or the open wooden wardrobe.